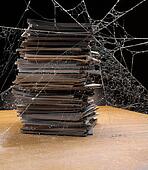 this is a new things I'm doing where I tell you what I've read and for whatever reason I've either not finished reading or read it sometime in the past, and never again.
Prod dets
Series
:
Laura Caxton, book 1
All the official reports say they are dead - extinct since the late '80s, when a fed named Arkeley nailed the last vampire in a fight that nearly killed him. But the evidence proves otherwise.
When a state trooper named Caxton calls the FBI looking for help in the middle of the night, it is Arkeley who gets the assignment - who else? He's been expecting such a call to come eventually. Sure, it has been years since any signs of an attack, but Arkeley knows what most people don't: there is one left. In an abandoned asylum she is rotting, plotting, and biding her time in a way that only the undead can.
Caxton is out of her league on this case and more than a little afraid, but the fed made it plain that there is only one way out. But the worst thing is the feeling that the vampires want more than just her blood. They want her for a reason, one she can't guess; a reason her sphinxlike partner knows but won't say; a reason she has to find out or die trying.
Now there are only 13 bullets between Caxton and Arkeley and the vampires. There are only 13 bullets between us, the living, and them, the damned.
[tb], 99 Bullets, Vampire Zero, 23 Hours, 32 Fangs
It was filled with lots of blood and death, about police officers going after vampires, who (well I think) are known in the world. I couldn't read the whole thing, there was just too detailed description of the blood and guts and the pain that they went through (at least for me at that time, no idea what it's be like now). It was also a crime novel and though it was a great book I just couldn't read it.
Gore written in vomiting clarity, it's a book that will have you seeking more details, if you like that type of thing, and I'm not, nor will I ever be, a Saw fan.
I just can't do horror, even more so, I can't mix that with full on crime. Though I will give it this, I read nearly half the book. Even though it grossed me out a little, and...well I just don't like that sorta piss your pants thing, I don't mind being scared, really, I just wanting in the bush at night and making the shadows into monster, human or not, I don't mind being scared. What I don't like is blood and guts, I kinda have to good an imagination and...yeah. Anyway I know that really well written, I liked the characters. I liked the fact that she was a lesbian and that was nothing. I liked that her missus was a little odd.
Anyway, it's not that I didn't like it, nor that it bored me into not reading it, more that I wanted to vomit and so that was enough of the book for now.