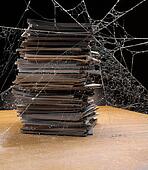 this is a new thing I'm going to be doing. mostly it's for me to tell you about the books that I started reading, and for whatever reason I never finished it.
Welcome to Wyldcliffe, the place that haunts my present, my past and my future.
Immortal
Cat
: fiction (magical realism/witchcraft)
Format
: paperback (mid); 360 pp w/ 50 chapters
Wyldcliffe Abbey School for Young Ladies is elite, expensive, and unwelcoming. When Evie Johnson is torn from her home near the sea to become the newest scholarship student, strict teachers, snobbish students, and the oppressive atmosphere of Wildcliffe leave her drowning in loneliness.
Evie's only lifeline is Sebastian, a mysterious and attractive young man she meets by chance. As Evie's feelings for Sebastian blaze with each secret meeting, she begins to fear that he is hiding something about his past. And she is haunted by glimpses of a strange, ghostly girl—a girl who is so eerily like Evie she could be a sister. Evie is slowly drawn into a tangle web of past and present that she cannot control. As the extraordinary, elemental forces of Wyldcliffe rise up like the mighty sea, Evie is faced with an astounding truth about Sebastian, and her own incredible fate.
[tb], Betrayal, Eternal, Destiny
It's about a girl who gets sent to a boarding school with a bunch of rich snobs, they all hate her. her history is that she's a descendent of a famous witch (I think) and she saves the day. falling for a mysterious guy she meets on the first day (again, I think) and leans about him. But I didn't get in it enough to understand what that is.
It was for a younger audience than I could read.
I'll explain: There's an age group in YA that's somewhere caught between Middle grade and Teen, it's a group of books that I just can't seem to read. Mostly because of what the characters are like in the books, what they do, where they are in life. It's that pre-teen age. There's a time there that is complex and the crap that the age group go through aren't really relevant (to me) or I can't understand, because of my oldness, whichever it is. I just don't get it in a way that's relatable or maybe more that I can't sympathise with dissention that other preteens make.
Saying this, I also don't like the romance between the characters, it's complex, really, for something so simple, and it borders on whether the author should have just left it out, or is it actually essential?!
Or maybe it's as simple as the fact that they make me feel old, and I care about that fact a lot more than I'm comfortable with?!