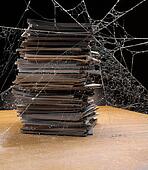 where I talk about the books I got
rid of and why
Series
: Dorina Basarab, Dhampir series, book one
Pub
: 2008, Onyx publishing
Dorina Basarab is a dhampir - half-human, half-vampire. Unlike most dhampirs, though, Dory has managed to maintain her sanity. Now Dory's vampire father has come to her for help - again. Her Uncle Dracula (yes, the Dracula), cruelest among vampires, has escaped his prison. And her father wants Dory to work with gorgeous master vampire Louis-Cesare to put him back there.
Although Dory prefers to work alone, Dracula is the only thing that truly scares her - and when she has to face him, she'll take all the help she can get.
[tb],
Buying Trouble
, Death's Mistress, Fury's Kiss
Cassis Palmer series: Touch the Dark, Claimed by Shadows, Embrace the Night, Curse the Dawn, Hunt the Moon,
Review
:
was not something that I enjoyed, not even finishing the two that I bought. I found them lacking in a way that made things not interesting.
They are about a world of vampires, and shifters and some chick who ends up saving the day. I think, or it's reasonably what they are about (sorry but I haven't read it in awhile). She doesn't really want to be put in the situation, but she is, and she ends up trusting someone she shouldn't. Walla, the first book.
I'm not sure if it was because of all the other stuff that I have read and these books were too close to them; too much the same that I have couldn't get into it, or if it was the characters that made the books that hard to handle. Whatever it was I didn't enjoy them and so you will have to get someone else's opinion on the books. And being that there are a lot of them out there it shouldn't be that hard, since people obviously like them, I'm just not one of them sorry.
If I was wrong in any way with this review, please feel free to correct me—I got a feeling I have the books mixed up.
I think that about covers the whys there. sorry, but it just wasn't the book for me.