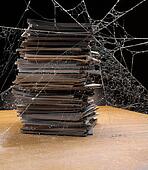 Where I talk about the books that I have gotten off my shelf
for whatever reason
A fallen Angel.... A Forbidden Love
Falling for the Fallen....
Series
: Hush, Hush, book 1
Pub
:

2009, Simon & Schuster
Author
: Becca Fitzpatrick
Genre
: paranormal mystery
Format
: paperback (mid); 391pp w/ 31 chapters
'His eyes sliced into me and the corners of his mouth tilted up. My heart fumbled a beat and, in that pause, a feeling of gloomy darkness seemed to slide like a shadow over me. It vanished in an instant, but I was still staring at him. His smile wasn't friendly. It was a smile that spelled trouble. With a promise.'
For Nora Grey, romance was not part of the plan. Not until Patch came along. With his easy smile and eyes that seem to see inside her, Nora is drawn to him against her better judgment.
But after a series of terrifying encounters, Nora can't decide whether to fall into his arms or run and hide. And when she tries to seek some answers she finds herself near a truth that is way more unsettling than anything Patch makes her feel.
For Nora is in the middle of a centuries-old battle between the immortal and those that have fallen – and the wrong choice will cost her life.
[tb], Crescendo, Silence, Final
This book wasn't one of my favourite. Though the book was good, the characters great and...well everything was great, just seemed more a crime/romance novel and not really my cup of tea (the crime part).
Okay, so it's about Nora, a girl with an odd birth mark and an iron deficiency that seems to be gaining the attention of Patch. First he becomes her lab partner to not tell her anything about himself, then another new boy comes wanting to date her, but she's more interested in Patch and his secrets, finding them can get dangerous when you're not really sure who you're running for, and sacrifices are always welcome, especially for those you love.
Nora has more enemy's then she knows about and all because Patch has become interested in her for a selfish reason that seems turn upside down when he gets close to her, and finds out what's really in that heart of hers.
Like I said it's a great book, lots of weird crap along with a love that... yeah, it's like all other books really. And what I have heard of the next one is better, but I haven't found myself been able to get it.
It's one of those books that are alright to read, and you can get into it, but unless you like it when your character needs that information because they can't figure out why they like a guy, then this is your book. And it's got good stuff, all the mystery, and when she finds out, you're finding it out, which makes it unpredictable. But still, looking back, I can't find anything in it that makes the thing stand out.
I liked the book; honestly, I really, liked this book, but.... (Well, we've already been through this, haven't we?!)
I just couldn't bring myself to like it enough to read on threw the series. Or even care that there was a series. It's one of those books that I know, it needed another book. I understood that, I got it, but I just couldn't let it be a second book, I couldn't read on, I liked that one book and maybe it was fear of ruining, but then why haven't I read it since? There have been so many good reviews from the books to come that it....
Anyway, I'm not really sure why, but there was something about the book that made it impossible for me to read on.