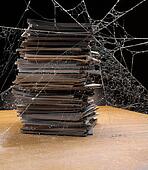 The books that have been collecting dust for so long they have
Series
: Kalix MacRinnalch, book 1
Pub
: 2007, Meadow & Black (Great Britain)
Format
: paperback (mid); 599pp w/ 236 chapters
Millar's expansive tale of werewolves in the modern world—friendly werewolves, fashionista werewolves, troubled teenage werewolves, cross-dressing werewolves, werewolves of every sort—blends satire, black comedy, fantasy and is hard-edged, hilarious, believable and utterly unputdownable.
As teenage werewolf Kalix MacRinnalch is pursued through the streets of London by murderous hunters, her sister, the Werewolf Enchantress, is busy designing clothes for the Fire Queen. Meanwhile, in the Scottish Highlands, the MacRinnalch Clan is plotting and feuding after the head of the clan suddenly dies intestate.
As court intrigue threatens to explode in all-out war, the competing factions determine that Kalix is the swing vote necessary to assume leadership of the clan. Unfortunately, Kalix isn't really into clan politics—laudanum's more her thing. but what's even more unfortunate is that Kalix is the reason the head of the clan ended up dead, which is why she's now on the run in London..
[tb], Curse of the Wolf Girl,
I bought this book because my brother-in-law bought me the second in the series and when I started looking it up and realised that I would have to read the first one for this one to make the most sense, if not, sense at all.
The problem being that I just don't think it's my thing. I don't do horror and the way this has come down and the people that have wrote crap about it, has suggested that I probably won't like it all that much.
It's a in your face book, I think is the dumbed down version of their tales.
I do however, really like the cover's there creepy and intriguing, they actually make you want to read it, and probably the reason that I just...can't.
They have that 'The Ring' feel to it that's really cool and dark. And if I had any balls that I could muster to be able to read it. Then it would have already happened.
As it is, this book is on my Challenge list, and I still don't know if I'll be able to read it for that either. I guess we'll see when the time comes that I have to pick it up, wont we?!
Added
(book 2) Curse of the Lonely Wolf Girl
(mid) paperback: 534pp w/204 chapts
Meet Kalix. She's struggling with college—and staying alive.....
Scottish teenage werewolf Kalix MacRinnalch is in London trying to settle down and live a normal life. Her new friends support her as she goes to college to learn to read and write, but her old enemies won't leave her alone. Many powerful werewolves want Kalix dead, and the Guild of Werewolf Hunters is still dedicated to wiping out the entire MacRinnalch werewolf clan.
Life might be easier if Kalix's family was able to help, but her sister, the Enchantress, needs all her powers to locate the perfect pair of high heels, her brother Markus is busy in Scotland organising an opera, and her cousin Dominil is engaged in her own merciless vendetta. Kalix must carry on alone, but she's finding it difficult enough to pay the rent without having to deal with werewolf hunters and exams at the same time....