At least the groupings, right, I've read more than 12 of them, but here's a highlight of my top twelve favs (from what I have read).
Embracing Love by Youko Nitta
I know I'm just at the start of this series, it's mostly because Australia doesn't get a lot of things over here, or I just haven't found the place that sells them. Still I got these in the 2in1 volume and I'm hoping they'll hurry up and release some more like that soon.
This is a story about two straight porn stars who end up having sex as an audition that ends up turning them both into TV stars of a show where they are lovers, who in turn become real life lovers.
It's mostly just goes through their lives as they work out their own relationship where ones a little pushy and the other one needs it, but denies. As well as their TV shows.
It's sweet, and it's lovely and I want more!
Bond of Dreams, Bond of Love by Yaya Sakuragi
This is about a priest and young guy falling in love. It's complicated.
The whole idea is that this priest had looked out of the kid since they meet when he was young, and when he got older he started have wet dreams about the priest, right, so he's like just figuring out what that means.
Then he blurts out that he wants this priest and so now the priest needs to work out what he wants, because he's life has been looking after him, and he's straight only he's just realising, since it's been pointed out that yeah, he wants him too.
Hide and Seek by Yaya Sakuragi
This is the first one I read, and then learnt he features in another two series, so…
It's about a doctor and a lolly shop owner falling in love.
Getting "Tea for Two" is next on the list for this author
Awkward Silence by Hinako Takanaga
This one is about a kid who had no facal expression and another who falls in love with him. theres also another story that underlines it and makes them get their own book, but I'm still waiting on that one to come in, but I quite like this series
I've Seen It All by Shouko Takaku
This I about a penis specialist who walks down the road and falls in love with some other dudes bulge, and I'm not kidding that's how it starts, and then the doctor becomes stalkerish. But the boy is sweet and it's what truly makes this story on of the top favs.
The Betrayal Knows My Name by Hotaru Odagiri
Man I love this series, it's great—it's about a group of people who are given powers to be able to hunt down demons.
I'm not really sure why I love this story so much, I just do it's wonderful, and sweet and I can't wait to see what else comes from it.
Nothing Can Possibly Go Wrong & Prusence Shen & Faith Erin Hicks
Coward Jocks, bitchy Cheerleaders, Nerds with Balls, Robots, Class President Election where both sides will do anything to win, Robot wars.
Did I mention the robots?! How could I not LOVE this book
Friends with Boys by Faith Erin Hicks
This graphic novel, I believe is probably on the list because It's so new and I've not been able to get over it just, but it's a sweet little story that leaves just enough open for you to crave the next one. it's what I'm doing just now, craving…
One Piece by Eiichiro Oda
My sister owns this series, she's the one that got me into manga, she's the one that got me into the Luffy franchise (I have stickers and pens, ect, and well as a mug)
Luffy is a kid who wants to be king of the pirates, and well, probably well as it's a kids book about him.
It's got magic and pirating, and fighting and an awesomely complicated twisting storyline that just pulls you in, and that's after you're already in love with all the characters,
This one's about Ghosts, hunting them, and I just love it, kind of like I love the one above, only I decided to read this one because I'm not a fan of …you know…the TV versions?!
This one, tho, is much more Japanese in the names of things, unlike the one above. But I love the interactions between the group of friends, the inner and the outer, along with the fight scenes and the longer story arcs, that have twists and turns but quite simple to follow along with.
Are You Alice? by Ai Ninomiya
This is, well, about the book Alice in Wonderland, this one has a boy going down the well and landing in a world and he gets the name Alice. but it's not really a world, not a real one, and it is. it's as complicated to tell you as it is when reading it, and for four books it's about as easy to follow as that.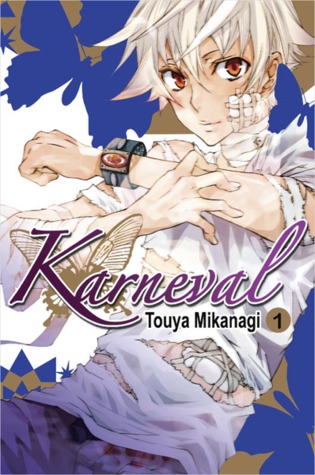 Karneval by Touya Mikangi
I just love this little fantasy world, but, well, to be honest the only reason it's up here is because I've kinda run out of favourite (I don't have a huge collection)
It's also, out of all the ones on my shelf, the series I'll be continuing when I either have the money of come across them in a store.
what are your favourites? or are you into anima, I'd love to hear what you think