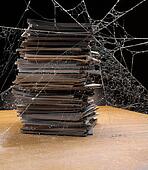 Where I talk about the books that have fallen off my shelf
for whatever reason
And then I opened my eyes and
it was just Grace and me –
nothing anywhere but Grace and me –
she pressing her lips together as though
she were keeping my kiss inside her,
and me holding this moment that was
as fragile as a bird in my hands.
Prod dets
Series
: the Wolves of Mercy trilogy, book 1
Author
: Maggie Stiefvater
Format
: paperback (mid); 390pp w/ 67 chapters
Grace has spent years watching the wolves in the woods behind her house. One yellow-eyes wolf – her wolf – watches back. He feels deeply familiar to her, but she doesn't know why.
Sam has two lives. As a wolf, he keeps the silence company of the girl he loves. And then, for a short time each year, he is human, never daring to talk to Grace... until now.
For grace and Sam, love has always been kept at a distance. But once it's spoken, it cannot be denied. Sam must fight to stay human – and Grace must fight to keep him – even if it means taking on the scars of the past, the fragility of the present, and the impossibility of the future.
The book, thoughts
: it's about a boy whose heart is lost in that of a wolf he had never wanted to be, but is going to fall into by winters end, And a girl who has only just found him, though she's been seeing him for longer than she's even known.
It's poetic, a lyric in a love song.
Reasons
: I really really liked this first book. I thought it was the best book of the year, until I realised it was a trilogy.
Now, don't get me wrong, it works as a trilogy, there are things let that needed saying and places they could defiantly go, but I liked the idea of it being a single tale. I liked the book as a single. And even though I bought the second in this series I couldn't read it, even after many attempts at picking it up. I just....
The book should have been single. It just worked so beautifully as a single story.